Hi again everyone, it's been a while! The past month has been a doozy for me, what with starting my new Insider Intelligence job, prepping for the launch of a new podcast, and putting together this newsletter. So, apologies if this post took a bit longer than usual. I'm hoping to jump back on a more consistent schedule moving forwards.
A little news to share here—the newsletter is getting a fresh new coat of paint! I'm super excited the incredibly talented Mack Lagoy has agreed to create some eye-grabbing images to go along with each of my longer-form essays. You can see the first one below!
With that, let's jump in.
---
Today's Big Story
How "Fake News" Became an Authoritarian Weapon
Image by Mack Lagoy.
Abdo Fayed was getting ready for sleep when he must have heard the slamming at the door. Not long before, the 31-year-old Giza native had taken to Facebook to write about an artist he'd known who, like thousands of other Egyptians, had lost their lives to Covid-19. Abdo was dismayed, distraught; he was disgusted by his government's response. In his eyes, the artist's death and so many others were avoidable, had only President Abdel Fattah Al-Sisi taken stronger, faster action. It's this criticism, levied at the president, that ultimately led a team of security agents to wade through Egypt's warm summer air and camp outside Abdo's house at 1:30 in the morning. Soon they would be inside and soon, Abdo would disappear.
As I write this, the world is two weeks removed from a US presidency marred by cacophonous chaos. Each day, newly inaugurated President Joe Biden uses strokes of his executive pen to overturn short-lived legislation rammed through by the previous president. In the years to come, like his ephemeral executive decrees, much of Donald Trump's legacy may fizzle to nothing more than a distant memory. But there's at least one relic of the Trump era that's here to stay and poised to expand. That's the former president's bastardization of the term, "fake news."
Fake news, of course, is real and exists, but the days and weeks and years following November 3, 2016, imbued the term with an entirely new meaning. For Trump and his surrogates, fake news wasn't merely a descriptor of the untrue, but rather a weapon used against opponents levying any type of criticism. At worse, in the US that meant harassment of journalists, the toxification of public communication, and most recently, the storming of the capitol building by misled ideologues donning Viking costumes and AR-15s.
All across the world though, dictators and leaders of countries with laxer civil liberty protections were taking notes. From Egypt to Turkey, members of the respective security states began using the term "fake news" to squash political dissent in all its forms. Many of the new laws passed implicitly, and sometimes explicitly, cited Trump's rhetoric as a justification. In some ways, his decrees, often delivered through all caps Twitter tirades, served as a call to action.
Laws like these are what led to Abdo's late-night abduction.
en.adhrrf.org/Cambodia-COVID…
(Bangkok) – Cambodian authorities should stop arresting people for expressing concerns about COVID-19's impact in Cambodia and claiming they are spreading so-called "fake news," Human Rights Watch said today.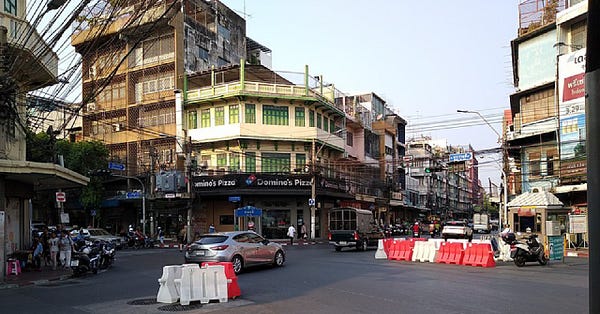 Cambodia: COVID-19 Clampdown on Free Speech | ASSOCIATION FOR THE DEFENSE OF HUMAN RIGHTS AND RELIGIOUS FREEDOM
Cambodian authorities should stop arresting people for expressing concerns about COVID-19′s impact in Cambodia and claiming they are spreading so-called "fake news," Human Rights Watch said today.
en.adhrrf.org
Abdo was no stranger to politics. For years he had written on Egypt and international relations for Al-Manassa and the private news site Ida2at. Often his journalism would contain commentary—critical but legal—levied against the government. Occasionally, some of his views would wind up on his personal Facebook page. Once inside his home, the police interrogated Abdo over those Facebook posts.
It's hard to say whether the Covid-19 post was the true culprit or a convenient scapegoat to silence an unwieldy dissident. Either way, Abdo was dragged out of his house and charged with joining a terrorist organization. The government had officially accused him of spreading fake news.
While Abdo's tale is shocking, it's not unusual. Egypt, in particular, has accounted for a striking rise in arrests following the passage of a 2018 Cyber Crime law that, among other things, criminalizes fake news. Yet, what the government labels "fake news" is often political dissent by any other name. Egypt's not alone. In recent years Vietnam, Tanzania, Turkey, Russia, Sri Lanka, Cambodia, and Singapore have all wielded accusations of fake news to imprison dissidents.
This influx of incarceration doesn't exist in a vacuum. While it's easy to write off the authoritarian impulses of repressive government as anomalous, these laws take inspiration from and are in effect amplified by leaders in the world's most powerful democracies.
These fake news laws and arrests have occurred with even more frequency during the pandemic—a time marked by lockdowns and national states of emergency. According to an AFP report, nearly 300 people were arrested across 10 Asian countries last year for allegedly posting false or misleading information related to the coronavirus pandemic. People arrested under these charges ran the gamut of professions and social status, from political opposition members in Cambodia to television personalities in Malaysia. Often what's called fake news in these situations really reads as political dissent or commentary to any reasonable person. In Sri Lanka, for example, a woman spent three days in jail for posting a prank message where she claimed the president had tested positive for Covid-19.
Trump is uniquely to blame here, but he's not the only problem. In other countries, well-intentioned laws aimed at criminalizing hate speech and online misinformation have similarly been co-opted by the world's authoritarian. Of particular concern—a 2019 law passed by the German government called The Network Enforcement Act.
The law, aimed at curtailing vile hate speech, took effect following a series of right-wing backlash to the government's decision to accept over one million refugees. Facebook, Twitter, and other social media companies agreed to remove extremist content within 24 hours of it being uploaded as a compromise to stave off regulation. The companies, in the German government's eyes, however, failed to live up to their end of the bargain, leading to the implementation of the new law which among other provisions, imposes "intermediary liability" for social media networks with over two million users. Companies that fail to remove "unlawful" content on time face up to $55 million in fines.
Reporters at Foreign Policy found, that "less than two years the [German] law has essentially been copy-pasted by governments around the world—most of which do not match Germany's commitment to democracy, the rule of law, and human rights." Amongst those copying the German model were Venezuela, Vietnam, Russia, and Belarus. In Singapore, officials even referenced the German law by name as inspiration prior to the release of a preliminary report on their fake news laws.
Vietnam's new Law on Cybersecurity is especially harsh. Passed in 2018, the legislation prohibits, "propaganda against the Socialist Republic of Vietnam," and criminalizes, "causing divisions or hatred between ethnic groups, religions, and people of all countries." Vietnamese residents can even find themselves jailed for actions such as insulting party leaders or mocking the national anthem.
***
Back in 2018, while working at New York Magazine I covered the early days of Egypt's Cybercrime law, which in the years since has proven to be amongst the world's most repressive. There, government officials possess the ability to ban "fake" content from anyone possessing more than 5,000 social media followers. Officially, individuals surpassing this follower count are treated the same as a media company. For context, there are popular dog Instagram accounts with more than 5,000 followers. Months after it passed, the crime claimed one of its highest-profile victims, actress Amal Fathy, who was arrested for "spreading false news" after she uploaded a post where she claimed a police officer had sexually harassed her. She faced the prospect of two years in prison for speaking out about the alleged assault.
When reporting those stories, I spoke to activists from Amnesty International and Access Now who both agreed the rising security laws and subsequent arrests featured a common through-line—inspiration from Donald Trump.
Trump is currently somewhere in Florida, presumably playing golf and prodding buddies who still have access to Twitter to tell him what people are saying about him. Yet, even if Trump the man has been banished to political oblivion, the fallout from his policies linger around the world, like the sour smell of grease stuck on clothes you just can't manage to snuff out.
---
In Other News…
1: 🇬🇧 UK Court Blocks US' Attempt to Extradite Julian Assange 🇬🇧
The court blocked a US Judge's recent request for Assange's extradition citing his poor mental health and potential risk of suicide.
The US has 14 days to appeal the decision, which it likely will.
While District Judge Vanessa Baraitser said the US met its test for Assange to be extradited for trial, they weren't able to guarantee he wouldn't commit suicide.

Specifically, the judge claimed that isolated detention in a US "supermax" prison could lead Assange to kill himself.

Unlike other countries, UK law requires the health of the accused be taken into account before signing off on extradition.
While a gaggle of rights groups and sympathetic politicians welcomed the news, many were displeased that it came via mental health grounds rather than a rebuke of the security charges levied against Assange.
"The judge rejected the defense case that the charges against Assange related to actions identical to those undertaken daily by most investigative journalists," Michelle Stanistreet, head of the National Union of Journalists told the BBC.
---
---
2: 🦠 Cops May Use Singapore's Covid-Contact Tracing Tech For Criminal Investigations 🦠
Singapore officials confirmed this week what many digital coronavirus contact tracing skeptics feared: police will store the data for arrests unrelated to the pandemic.
Unlike most countries, Singapore's contact tracing app, called Trace Together, was adopted by the majority of its population.
According to The Guardian, Trace Together was adopted by just over 80 percent of the population.

Residents are required to sign up for Trace Together to gain access to shopping malls and a variety of other gathering places.

Compared to the US and many European countries, Singapore has managed to contain its Covid outbreak strikingly well, a fact often attributed to the widespread use of Trace Together and other contact tracing efforts.
When Singapore residents consented to the app, they did so under the pretense that their data would only be used to combat the pandemic … but that's changed.
Originally, Trace Together's privacy statement claimed, "data will only be used for Covid-19 contact tracing."

As of last week, that same statement now says: "Authorised Police officers may invoke Criminal Procedure Code (CPC) powers to request users to upload their TraceTogether data for criminal investigations. The Singapore Police Force is empowered under the CPC to obtain any data, including TraceTogether data, for criminal investigations."
Singapore law enforcement has reportedly already used data gathered through the app in a murder investigation.
This bait and switch was the exact type of thing The Electronic Frontier Foundation, the ACLU, and others warned could happen in the US and Europe.
Thanks in large part to a natural skepticism towards government (among other factors) the United States never adopted contact tracing apps in any meaningful way.

According to Ars Technica, around half of Americans polled said they wouldn't trust a contact tracing app.
---
3: 🇹🇷 Youtube Submits to Turkish Censorship Demand 🇹🇷
After being fined over 40 million lira ($5,481,708 USD) by the Turkish government, Youtube has agreed to appoint a local representative to act as a de facto censor.
The move comes as Turkey acts aggressively to enforce new social media rules it passed last week aimed at suppressing dissent online.

Having an appointed official not only makes it more likely for content critical of the regime to be removed from the video site but may also encourage a new level of self-censorship.
Despite the news, Youtube still claims it maintains, "commitments to freedom of expression, access to information, and transparency." Youtube elaborated on that seeming contradiction in a statement to Reuters:
"We have been able to find a way forward and will commence the process of appointing a local representative legal entity in compliance with the law, without compromising our values."
---
---
4: 👎 Facebook Forced to Turn Off Some of its "Child Abuse" Functions to Comply with Europeans Privacy Laws 👎
Facebook said it will scrap some of its automated safeguards meant to detect evidence of child abuse and exploitation on its platform in order to comply with European Union privacy laws.
Specifically, the EU's GDPR prohibits companies from automatically scanning users' private messaging.

That was a tool Facebook used in order to detect certain images and other content deemed harmful.
The move highlights the often unsavory tradeoffs tech companies, and their users face when forced to decide between personal privacy and security.
Also highlighted here is the increasingly fractured nature of international social media companies attempting to comply with different rules in different places.
In the UK, for example, which recently jumped ship from the EU, the automatic scanning of messages persists.

According to Facebook, the scanning tool is "consistent with applicable laws," there.

Similar situations may occur between states in the US. California, for instance, recently passed privacy legislation that's significantly stricter than the rest of the country.
---
Here's What Else is New
🚫 Parler, a recently banned social media app made popular by the far right, sued Amazon on anti-trust grounds
The lawsuit claims the AWS ban was politically motivated and that it represents an attempt by Amazon to squash competition.

UPDATE: The lawsuit failed
🇺🇸 The FTC just settled with a photo-sharing company that secretly used customers photos to develop facial recognition technology
As part of the suit, Ever (the company) will have to delete photos and videos of users who deactivated their accounts.

The company will also have to get rid of any algorithms that were trained using facial recognition from those photos.
👨‍💻 Hundreds of Google Workers have formed a Union
From Casey Newton's Platformer "The initial group of 230 Googlers is not immediately seeking ratification for their union, which is being supported by the 700,000-member Communication Workers of America, through the National Labor Relations Board. As such, the Googlers will not have collective bargaining rights."
---
That's it for now. As always, please feel free to reach out to me at thestateofsurveillance@gmail.com or Mack.degeurin@gmail.com
Peace everyone.