Today's Big Story
Trump's New Patriot Act
So far in this newsletter, I've tried to refrain from pointing to any one single political administration to blame for the current state of expanding surveillance, opting instead to show how privacy violations, like anything else, evolve on a continuum and depend on the decisions and miss-steps of a long line of successive actors.
That's not happening today. Instead, I'm going to focus on the large, orange-tinged elephant in the room.
Over the past few weeks, we've explored how innumerous numbers of tech companies, from giants like Google and Facebook to other more shadowy figures, like Palantir and Clearview AI, are all quickly swooping in with offers to assist, in varied ways, to track COVID-19 cases. While some of this can be done on a private level (Facebook just released some aggregate data this week) many of the more ambitious tracking projects being espoused would require direct cooperation and oversight from the US government. It's worth considering just what that would look like given the who currently wields political power.
In Taiwan and South Korea, counties where proponents of virus tracking apps and locaiton based argue digital fences have worked most effectively at containing the virus's spread, enforcement came from the top down with government assistance. While even some of the most bullish privacy advocates have shifted their tone during the pandemic and have signaled some willingness to welcome in government coronavirus monitoring, those proposed regulations would be enforced by the Trump Administration. And of course, the person put in charge of seeing this new age of surveillance through is none other than …. Jared Kushner.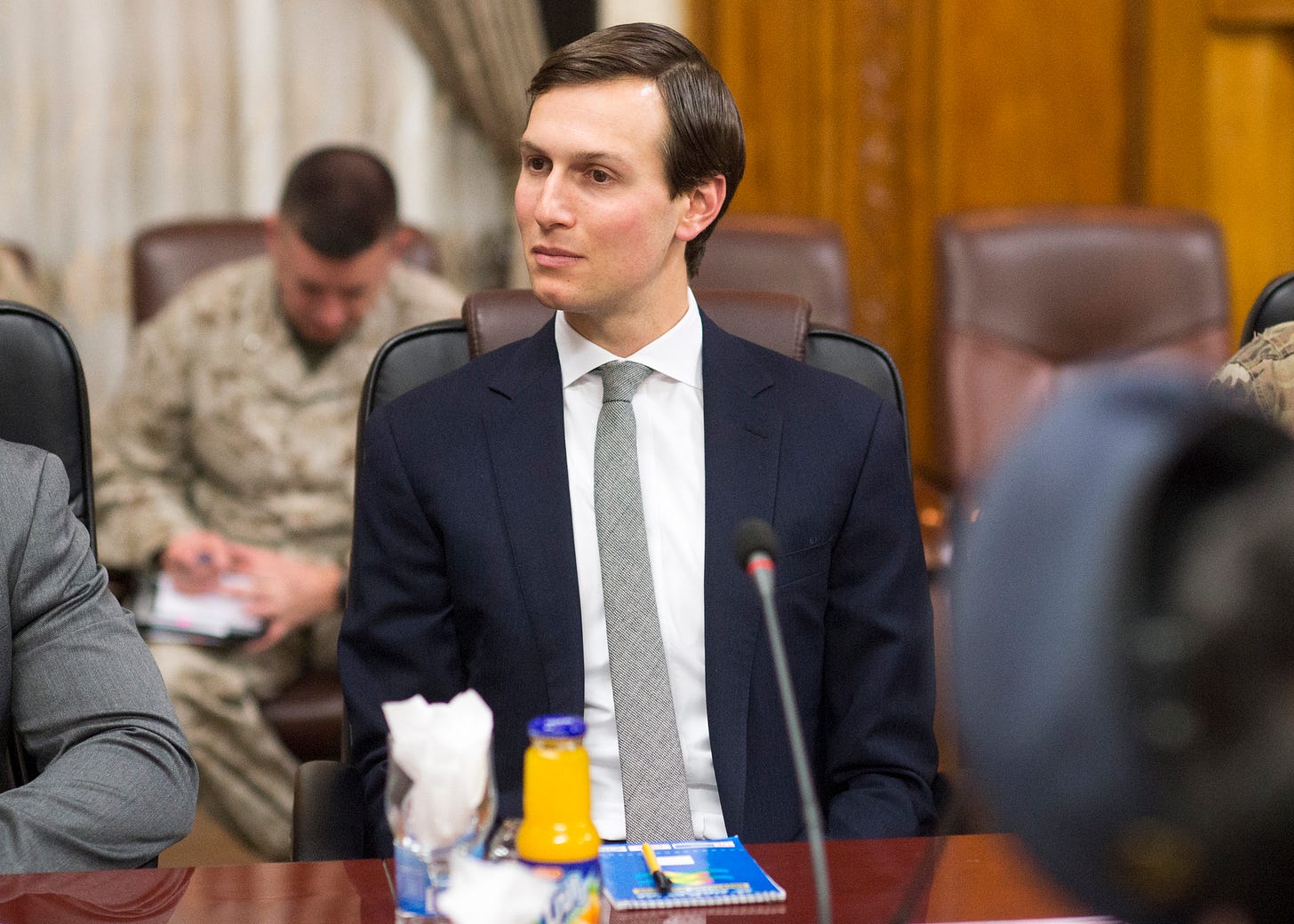 Image courtesy of Chairman of Joint Chief of Staff via Wikimedia Commons.
At least that's according to at least four sources who spoke of the developments in a recent Politico article. According to that piece, Kushner has reportedly created a task force and is reaching out to tech companies around the country with the hopes of creating a nationwide surveillance system to, "give the government a near real-time view of where patients are seeking treatment and for what, and whether hospitals can accommodate them."
Since Trump was elected in 2016, Kushner has been tasked with solving the US opioid epidemic, managing diplomatic relations with Mexico, fixing the nation's veterans' hospitals, spearheading criminal justice reform, and solving the problem of peace in the middle east. This is the same Jared Kushner who, at the onset of the pandemic, during critical weeks that could have saved lives, allegedly told his father in law (the president of the United States) that the coronavirus was, "fake news."
Here's Adam Cancryn explaining the alleged Kushner led surveillance apparatus further:
"The proposed national network could help determine which areas of the country can safely relax social-distancing rules and which should remain vigilant. But it would also represent a significant expansion of government use of individual patient data, forcing a new reckoning over privacy limits amid a national crisis."

"Health privacy laws already grant broad exceptions for national security purposes. But the prospect of compiling a national database of potentially sensitive health information has prompted concerns about its impact on civil liberties well after the coronavirus threat recedes, with some critics comparing it to the Patriot Act enacted after the 9/11 attacks."
That last line, comparing the unfettered use of private health data once this current crisis subsides to the Patriot Act post 9/11, has been a major area of concern for civil liberty groups in recent weeks. Both the ACLU and The Electronic Frontier Foundation released guidelines in the past two weeks warning of surveillance practices outliving their usefulness. That same sentiment has also been echoed by constitutional lawyers at the Brennan Center for Justice in New York.
The former director of the Federal Trade COmmission's consumer protection bureau Jessica Rich expressed similar concerns in the Politico article.
"We dealt with similar issues in 9/11," Rich said. "One reason that the government doesn't have all of this data is there's a lot of concern about big brother maintaining large databases on every consumer on sensitive issues like health, and for good reason."
According to the article, the Trump administration has already reportedly moved to ease data sharing rules and has reassured companies that they won't be punished for sharing normally confidential private health information with state and federal officials. The new Kushner led project would reportedly let US federal officials to track hospital data, like the number of beds available, and quickly rush resources to areas most in need before they're drowned in coronavirus cases.
It's worth noting that the White House has neither officially confirmed or denied the existence of this proposed mass surveillance project. Instead, a spokesperson for the White House told the Politico reporter: "This story makes no sense and is completely false."
Following news of the report, several lawmakers Virginia Democratic senators Mark Warner and Connecticut senator Richard Blumenthal issued a pubic statement demanding ore information of the new surveillance project. Here's what they wrote.
"Given reports indicating that the Administration has solicited help from companies with checkered histories in protecting user privacy, we have serious concerns that these public health surveillance systems may serve as beachheads for far-reaching health data collection efforts that go beyond responding to the current crisis," the members of Congress wrote. "Public health surveillance efforts must be accompanied by governance measures that provide durable privacy protections and account for any impacts on our rights."
Like Rich above, the three lawmakers also asked whether or not the data being collected under this news system would continue being scooped up once the pandemic dies down.
"When will the federal government stop collecting and sharing health data with the private sector for the public health surveillance initiative?" the lawmakers asked. "Will the Administration commit to a sunset period after the lifting of the national emergency?" The letter went on to urge Kushner to disclose which tech companies and data providers were involved in the proposed system and how he planned on guarding against potential issues of personal data.
Those looking for evidence for what a Trump administration headed surveillance state would look like need only take a peek at the country's southern border.
Unable to recived funding for his "big beautiful" physical border wall, the Trump administration (with support from the Democratic Party) instead worked on rolling out a "smart wall," with reams of new drones and thermal monitors dotting the southern border. Drones equipped with facial recognition currently scan the faces of anyone near the US border and runs them against a government database and iris scanners are being used, largely unregulated to further deepen the state's massive biometric database. Last year, reporting in The New York Times revealed that ICE had surreptitiously collected facial recognition scans of millions of drivers licenses across the country in an attempt to snuff out and deport illegal immigrants.
While President Trump has openly balked at Obama era privacy violations, and may himself have been the victim of unfettered spying, when given the opportunity, his administration has taken every available opportunity to expand the US surveillance state, not limit it.
---
Like what you've read so far? If so, please consider becoming a paid subscriber for $5 per month.
If that's too much commitment, no worries. You can also support the newsletter by making a one-time Venmo donation to @Mack-DeGeurin to help keep this content coming.
---
In Other News…
***Apple and Google Release Coronavirus App***
The two tech giants teamed up together to jointly release a Bluetooth based contact tracing app meant to monitor the spread of coronavirus cases. The app would supposedly ping users with an alert if they come in contact with an infected person.
If a person tests positive for the virus, the app would comb through that user's past 14 days of location history and use the Bluetooth feature to search for any other mobile devices that had come within a certain distance of that person. All of those people would then received a push notification reading something like this:
"ALERT: You have recently been exposed to someone who has tested positive for COVID-19. Tap for more information."
The app, as reported in The Wall Street Journal, most closely resembles the type of Bluetooth based contact tracing previously seen implemented in Singapore and Taiwan.
The new app was immediately met with skepticism and signs of worry from some civil liberties groups. ACLU surveillance and cybersecurity counsel Jennifer Granick outlined some of her worries in an emailed statement today.
"No contact tracing app can be fully effective until there is widespread, free, and quick testing and equitable access to healthcare. These systems also can't be effective if people don't trust them. People will only trust these systems if they protect privacy, remain voluntary, and store data on an individual's device, not a centralized repository. At the same time, we must be realistic that such contact tracing methods are likely to exclude many vulnerable members of society who lack access to technology and are already being disproportionately impacted by the pandemic."
Tripp Mickle and Rob Copeland for The Wall Street Journal
---
***Snowden rails against coronavirus surveillance***
Edward Snowden is speaking out against global attempts to track COVID-19 cases using locaiton tracking and claims governments are using the virus to build "the Architecture of Oppression." Snowden warned of a future where the coronavirus as a health concern fades from memory, but the invasive surveillance practices brought on to crush it remains. Now I'm quoting Snowden:
"As authoritarianism spreads, as emergency laws proliferate, as we sacrifice our rights, we also sacrifice our capability to arrest the slide into a less liberal and less free world. Do you truly believe that when the first wave, this second wave, the 16th wave of the coronavirus is a long-forgotten memory, that these capabilities will not be kept? That these datasets will not be kept? No matter how it is being used, what' is being built is the architecture of oppression."
Snowden is best known as the NSA whistleblower who blew the lid on the government agencies' mass collection of calls and text messages in 2013. The statements were made during the first episode of VICE's new show "Shelter in Place," which you can watch here.
---
***Baltimore's Panopticon***
The ACLU has filed a lawsuit against the city of Baltimore hoping to stop them from implementing new surveillance powers. The lawsuit revolves around the city's proposed partnership with Persistent Surveillance Systems LLC, which if implemented would roll out an aerial surveillance program capable of tracking and monitoring the movements of over 600,000 residents.
This particular surveillance program is unrelated to recent coronavirus measures and works by equipping police airplanes with high-resolution cameras that fly over the city and can reportedly photograph 32 square miles every second, which according to The Intercept, would allow "for the slow-motion reconstruction of virtually all outdoor movement."
According to previous statements made by the Baltimore police department, officials hope to have several planes fly simultaneously, which would, in effect allegedly possess the ability to record 90% of the city.
---
***Elizabeth Warren grills Zoom ***
The Massachusetts senator and former 2020 presidential candidate sent a letter to Zoom demanding the company release information regarding the company's privacy protections for underage users. Co-signed by fellow senator Ed Markey, the letter highlighted some of Zoom's recent privacy scandals and asked for detailed information about the company's security history. The letter requested a full record of the company's data breaches as well as a report on specific incidents related to Zoombombings in classrooms.
Zoom's CEO responded to the letter in the Verge by saying the company takes, "privacy, security, and trust extremely seriously."
The data of children under the age of 13 is protected under the Children's Online Privacy Protection Act, so it is a crime for companies to make money off it. However, as we've recently seen with Google, companies dependent data collection for profits often miss the mark here.
---
Long Reads/ Food for Thought
Mark Mackinnon and Nathan Vanderklippe for The Globe and Mail
One of the greatest fears of any "emergency" related legislation is the prospect of Machiavellian style power profiteers swooping in and using a suspension of rights for their own gain. Already, this is playing out around the world due to the coronavirus.
These fears have become a reality for residents in Hungary, Serbia, and the Philippines who are experiencing what has come to be known as "coronavirus coups." In Hungary, Prime Minister Viktor Orban has his party have seized on the opportunity to pass through legislation that will allow him to continue ruling indefinitely.
---
Eric Lutz for Vanity Fair
---
Access Now
---
Back Read
***Can Facial Recognition be Racist?***
The world's creepiest facial recognition company allegedly received funding from the political far-right. That's according to a new investigative report from The Huffington Post that dug deep into the founder's past and revealed the headline-grabbing list of associates within his circle that may have helped fund the company.
Clearview AI, which was the source discussion for a previous issue of this newsletter, has drawn mass criticism from privacy experts and the general public after it was found that over 2,000 entities, including ICE, the FBI, and numerous law enforcement agencies were secretly working with the company's facial recognition software.
That software's database of billions of faces was created by surreptitiously scraping social media sites for images of users without their explicit consent and often in violation of those sites' own terms of service agreements.
Hoan Ton-That, the company's co-founder is 31 and before his involvement with Clearview was a relatively unknown hacker. According to the HuffPost, Ton-That was previously involved in a phishing scheme that stole the login credentials of Gmail users via a custom made worm. He then went to continue phishing login credentials. In hacker talk, Ton-That would have been what's called a Black Hat.
Among other associates, the HuffPost piece links Ton-That with libertarian billionaire financier Peter Thiel, new right conservative Twitter celeb Marc Cernovic, and the white nationalist figurehead Richard Spencer. There are many, many more connections notes in the piece with varying levels of note.
In a pretty on the nose line, the HuffPost piece states, "Big Brother, it turned out, was wearing a MAGA cap."
In general, HuffPost's uses here of the terms, "far-right," and "alt-right," fall prey to many of the unforced errors plaguing most modern digital reporting. While many of the actors noted in the piece surely support president Trump and certainly aren't "far-left" it's unclear what real political similarities an of them share with each other, or if they could really be considered more conservative someone else aside from their willingness to don a MAGA hat. Some of the figures listed in the piece seem to fall less under the category "far-right" so much as, "annoying asshole online."
Many other examples in the piece of more overtly white supremacist and Neo-Nazi figures haven only tangential relationships with Ton-That. Even then, its less clear how those relationships may or may not directly influence Clearview AI as a company.
Instead, most of the Clearview associates, at least from what's available, seem to have more in common with the company's founder than David Duke. They are all benefactors of the internet who have made a name for themselves trolling, kicking dirt, and disregarding morality in the name of profit.
The HuffPost investigation, at the very least, reinforces an underlying notion behind privacy that is sometimes missed which is, like anything else, it's impossible to devoid personal politics from technology.
But that's just my personal take. You can view the article here and draw your own conclusions.
Luke O'Brien, The Huffington Post
Alright, that's it for now. Thank you for reading, and stay tuned for another issue next week.
---
Thoughts? I want to know what you think! This newsletter is a living, evolving, work and it is meant to be a helpful resource to keep you informed and engaged with the ways emerging technologies are impacting daily life. Please send all comments, questions, corrections, criticism, and hate (lemme have it) to thestateofsurveillance@gmail.com.
If you found this newsletter beneficial, you can help keep it going by sharing it online or (better yet) telling a friend about it. To help support the newsletter in more tangible ways you can make a donation of any amount to my Venmo account below. Any and all support is greatly appreciated.
Follow the State of Surveillance on Twitter @state_of_spies

Follow me on Twitter @mackdegeurin

Support this newsletter with a Venmo donation to @Mack-DeGeurin